Major's Hill Park, Ottawa, 2007
Here's what worries me. So many ugly things are happening in Canada this weekend (and in the US too), with swastika flags flying and people shouting for the Prime Minister to be put to death, hung, desecrations of monuments to courage, and I feel helpless. I don't feel there's anything I can do, in part because I'm so far away, and in part because there's no actual model for opposition to what began as an expression of free speech and dissenting opinion but which has devolved to chaos beginning to resemble what happened in Washington last January. I suspect the money chain would lead to the same sources that funded that insurrection. American supporters, including the last president, are the usual suspects. Many of the flags are the same, the rhetoric has a similar aggrieved sense of entitlement. "We're not leaving until all COVID vaccination mandates are reversed." Like aggressive dogs, they peed on the National War Memorial. Watching footage of a woman dancing on the Tomb of the Unknown Soldier was so disturbing that I can't get it out of my mind. The homeless shelter we often pass when we're in Ottawa visiting our family posted this today: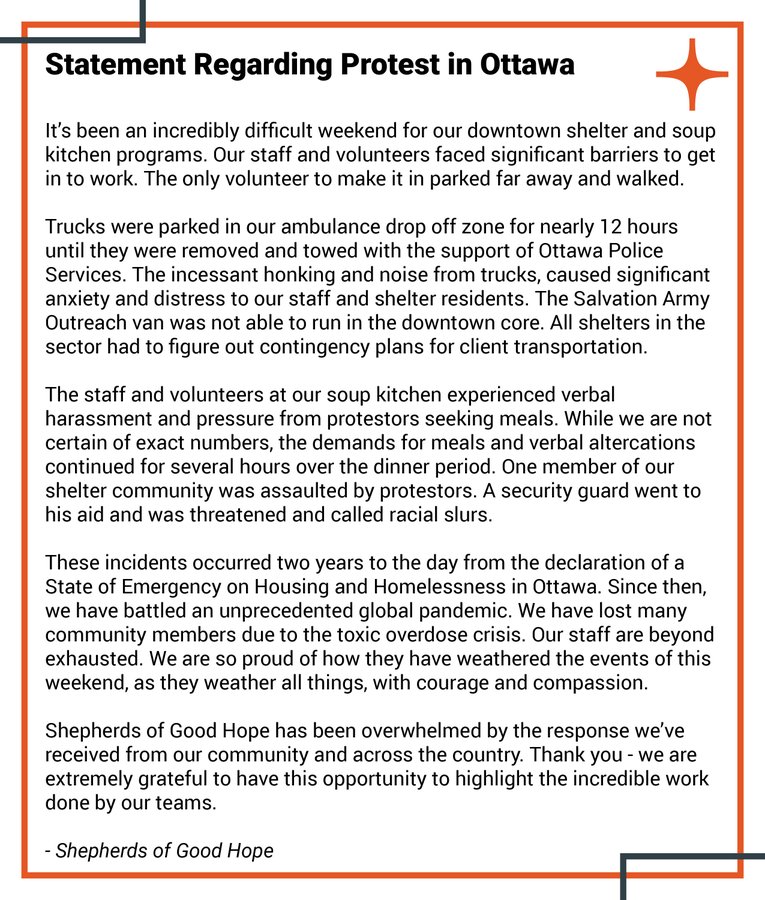 I feel helpless and it worries me. In the past month I've read several books about the Holocaust. One of them, The Boy Who Drew Auschwitz: A Powerful True Story of Hope and Survival, by Thomas Geve, was so absorbing, I read far into the night, astonished at the resilience of the author's younger self, just 15 when he was liberated and who drew the buildings, created simple narratives of such events as hangings and food lines, a living testimony. Another was The Dressmakers of Auschwitz: The True Story of the Women Who Sewed to Survive, by Lucy Adlington, documenting the work of women who were conscripted within the camp to sew for the wife of the camp commandant, Rudolf Hoss, as well as the wife of Hermann Goering, among others. The other day I spent an hour reading Vassily Grossman's essay, "The Treblinka Hell", as succinct and terrible an account as anything I've ever encountered. In the first two books, as with others I've read over the years, I was shaken by the methodical way the rights of people were eroded over a period of time, methodically and insidiously, and what astonished me is that good people didn't do more to prevent this. Surely there were many good people, the ones who hated dog whistles, batons striking old people on the street, new rules preventing Jewish children from attending schools, their parents from owning businesses, crowds breaking windows, and, and, and it goes on. Went on. Yes, families were helped, hidden, given refuge. But so many weren't. And crowds cheered for the regime that brought this hatred and terror into the open.
Here's what worries me. How far along in this awful trajectory are we? Where we don't act against what's going on in Ottawa (and in other cities too, where placards with hideous messages are in proud evidence) because, well, it doesn't actually affect us in our homes so far away. Doesn't affect our daily life. We live in a democracy, we tell ourselves, and we all have the right to our own opinion. And yes, I believe that, but I also believe that democracy asks us to know what it means. We have a democratically elected government, we have good health care, free education, but can we count on these things to continue if we don't recognize anarchy when it's at work in our cities? I remember watching the assault on the US Capitol last January, in horror, with a small inner voice saying that such events were unlikely to happen in Canada. Ha. I never expected to see trucks on the streets of Ottawa flying Confederate flags or people in Major's Hill Park with their swastika flag in full view of our Parliament Buildings, a park where I've picnicked with my family, yet there they were. No one stopped them. Where were the good people when protesters entered the homeless shelter? Where was I, for that matter?

War Memorial, Ottawa, 2008
How do we know when it's too late? I guess that's what I'm wondering. I'm wondering what I can do right now, and how, and with whom.
(On a lighter note, I saw several signs on trucks advertising non-vaccinated sperm. The suppliers looked just as I supposed they might.)