April 22, 2023
Here's the schedule for the Sunshine Coast Festival of the Written Arts. I'm so excited to be included this year! John will print a letterpress keepsake, embellished by me with indigo cotton and maybe a shell button, to celebrate the event.
https://writersfestival.ca/2023/2023-festival-writers/
March 21, 2023
In the mailbox today, SubTerrain 93, with my kitchen essay, "The Sound of Forks and Laughter". The whole issue looks great!
March 17, 2023
I loved talking to Melanie Kindrachuk about my first novel, Sisters of Grass, and sewing, quilting, and women's work for her online book club.
http://www.followingthethread.ca/2023/03/literary-sewing-circle-author-feature.html
March 7, 2023
I'll be participating in two literary festivals over the summer. The first one, Word on the Lake, is actually a spring festival but May in Salmon Arm is often very warm and lovely. Visit the website for more information:
https://wordonthelakewritersfestival.com/
And I'll also be reading at the Sunshine Coast Festival of the Written Arts, in Sechelt, over the weekend of August 17-20.
February 22, 2023
Pleased to be invited to participate in this online event. Here's the link.
https://www.eventbrite.ca/e/small-press-coffee-dates-tickets-551605927177?fbclid=IwAR1gbGBisWfv-XtHWWEYNSiUFGyIhJIfuMj8EOEoU4Rg8JiQvC6Jy8a8uqg&mibextid=kdkkhi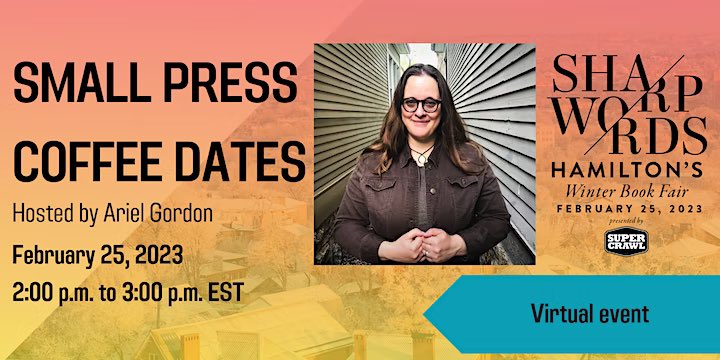 February 21, 2023
I've been working on the final edits of an essay, "Seams: Piecework in Twenty Uneven Stitches", to be included in this beautiful anthology, due out fall, 2023 from Arsenal Pulp Press.
December 12, 2022
I'm really thrilled to be on this list!
December 9, 2022
Forrest conducts a tour of the exhibit he curated for Library and Archives Canada, currently installed at the Canadian Museum of History in Gatineau.
December 8, 2022
A little heads' up. I'll be at the wonderful Word on the Lake Writers Festival in May, 2023. This will my third visit and I'm really looking forward to it. More as details evolve…
My son Forrest, talking on Ottawa Morning about an exhibit he's curated for Library and Archives Canada.
https://www.cbc.ca/listen/live-radio/1-100-ottawa-morning/clip/15953641-the-surprising-artifacts-library-archives-canada
November 26, 2022
My publisher, the University of Alberta Press, is having a Holiday sale! Details here:
October 18, 2022
I loved Maleea Acker's new poetry collection, Hesitating Once to Feel Glory, and my review is here:
October 7, 2022
An opportunity to talk about the essay!
September 30, 2022
I'll be reading with Jane Cawthorne on November 24th at Massy Arts Gallery in Vancouver's Chinatown. Please visit the link for further information about COVID protocols, etc. Hope to see you there!
Building Literary Homes: An Evening with Jane Cawthorne & Theresa Kishkan
September 24, 2022
Tonight!
In time for Christmas, a novella sale! 3 for $45. Shipping free in Canada. Elsewhere, I'll try to keep it reasonable.
It's full of lovely things but this? Oh this!
She writes about the landscapes of her childhood, places firmly etched on the map of her mind. About trees and flowers, cuttings the history and stories of gardens—and this book is a nice complementary read to Helen Humphreys's new book, The Ghost Orchard, which I read not long before it. Euclid's Orchard is a collection of fascinations and astonishments, of the world as it is and was and is ever becoming.
I'm sorry to say that John and I won't be at the Alcuin Society Wayzgoose on November 4th at the Vancouver Public Library (rogue health adventure for my poor husband) and we're very sad to miss it. A perfect place to see the range of possibilities within the book arts community, from fine papers, to marbling, to beautiful notebooks bound with linen or silk, to letterpress ephemera.
I was delighted to read this piece in today's Coast Reporter (the weekly newspaper for the Sechelt Peninsula):
and here's me at the library in Sechelt, with an image on the screen behind me of my family around a little campfire on White Pine Island (on Ruby Lake) about 25 years ago. When I launched my book in Sechelt, I had a running series of my ghosts behind me as I read and talked because I wanted people to see what (or who) inspired much of the writing in the book, the presences I felt hovering around me last fall.
We'll have letterpress broadsheets for sale—individual copies as well as folios—and other ephemera. We'll also have copies of our own books for sale and John's suggesting that we include a free broadsheet with each book we sell. How's that for incentive? We always do some our Christmas shopping at the Wayzgoose. Fine press books, letterpress cards and posters, marbled and handmade papers, limited edition prints in various media…something for everyone.
This morning, I'm All Lit Up, as opposed to yesterday, when I was simply in the window:
Seriously, I really enjoyed participating in All Lit Up's Writer's Block feature.
A week notable for a few things—the return to school (not for me, whew); the 1st birthday of this beautiful little boy (my grandson Henry);
and the launch for Euclid's Orchard at the library in Sechelt on Friday evening!
If you're on the Coast, you'd be very welcome. I'll be baking desserts all week!
If you're in Victoria in October…
A month from today, John and I will be reading together as part of the Poetic Justice series in New Westminster, thanks to James Felton (who has just sent this nifty notice).
The Summer Book continues to be read and enjoyed!
The generous Kerry Clare has a post about it on her wonderful blog, Pickle Me This:
Sunshine Coast launch: September 8th, 7 pm, Sechelt Public Library. Refreshments served, books available…

 

September 17, 11:30, with John Pass as part of the Poetic Justice series in New Westminster, current venue: Boston Pizza 1045 Columbia St New Westminster V3M 1C4

 

September 20, 7 pm at Cottage Bistro, 4468 Main Street Vancouver, as part of the Twisted Poets series in conjunction with Word Vancouver, with Arleen Pare & Dan MacIsaac

 

September 30, 7:30 pm, Salt Spring Island Library (Ganges), with Sarah DeLeeuw

 

October 4, 7:30-9:00 (doors open at 7), Munro's Books, Victoria, with Bill Gaston
Lovely to wake up to this today! (And believe me, the entire anthology is worth reading!)
Why we're taking notice: Oh my gosh, just read the first essay by Theresa Kishkan, this amazing, mesmerizing, transporting, telescoping thing. Which is kind of just like summer is. And then read the rest of the book, but not too quickly. Also like summer, you'll want this one to linger as long as possible.
Not long now til Word on the Lake, in beautiful Salmon Arm! Weekend of May 19-21…I'll be offering a workshop (on both the Saturday and Sunday), participating in the Blue Pencil Cafés, and a reading event on the opening night.
My essay, "Euclid's Orchard", is included in the anthology!
If you're in Kamloops and want to take a poetry workshop, may I recommend this one?
This morning I returned the final version of an essay, "Love Song", to Mother Tongue Publishing. It will be part of an anthology due out in early June. Here's the cover. Something lovely to dream towards as we wait for spring weather. One lonely daffodil trying to bloom in my garden. The others are wise to wait. We had snow again on Thursday!
Kishkan accomplishes a great deal in this work. Her poetics and sense of a narrative molding, using the conventions of fiction and creative nonfiction, allows a poetic prose to emerge from Winter Wren. This is a style that promises to create an emerging form in the genre of Canadian novella.
November 24, 2016
November 19, 2016
I'm so happy to be invited to Word On the Lake in Salmon Arm over the weekend of May 19th – 21st, 2017. More details to come….
November 7, 2016
If you're on the Sunshine Coast on December 3rd, come and help celebrate the Art Council's 50th anniversary! Our Arts Centre is possible the nicest one anywhere…
October 6, 2016
If you're in Nanaimo on October 25th, please come and hear John and me read! For more details:
September 26, 2016
September 7, 2016
Born to Brendan and Cristen: Henry Byron. A brother to Kelly. Parents and grandparents and aunts and uncles are thrilled.
September 3, 2016
August 24, 2016
I really loved talking about, and reading from, my novellas at the Festival of the Written Arts in Sechelt earlier this month. The whole Festival is lively and beautifully organized and it was wonderful to meet up with some old friends and to make a few new ones too.
August 4, 2016
July 30, 2016
July 12, 2016
May 27, 2016
Not exactly in the realm of literary creation but perhaps more in the realm of past biological accomplishment; still, I was so proud to learn about this:
An interesting mathematical problem or at least a genetic one. How two writers (poets even!) produced Brendan….
May 20, 2016
May 13, 2016
May 3, 2016
April 1, 2016
March 21, 2016
March 11, 2016
And that special news I mentioned last week is a week closer to happening. I hope to be able to talk about it at the end of the month!
March 4, 2016
And his poem "Margined Burying Beetle" recently won the Malahat Review's 2016 Open Season Award for poetry. There's a nice interview with him on Malahat Lite:
February 14, 2016
February 8, 2016
February 2, 2016
Doesn't this sound like a great crowd to hang out with for a weekend in February???
December 18, 2015
The Galiano Literary Festival information is now posted. The Festival is in February — the 19th to the 21st. John and I have both been invited and we're looking forward it!
I'm also really thrilled to be on the roster for the Sunshine Coast Festival of the Literary Arts, taking place next August 11th — 14th.
November 16, 2015
A wonderful review of Patrin in this morning's Vancouver Sun!
Delighted to read this review this morning! My favourite line might be the first one: "Melancholy, plangent, luminous: in case of fire, break glass and release the adjectives, people!"
Remember to come and say hello if you're on Salt Spring Island on November 7! I think it will be a very spirited event!
I'm not on Facebook but here's a link to details about our reading next week at Russell Books in Victoria (November 5th, at 7:30 p.m.):
I love how our books look together — mine, John's, and Sarah's. It reminds me of the time Sarah spent with us here, a couple of days leading up to a reading she did in Sechelt, and how we all sat by the fire and talked, talked, talked. Talked about writing, food, the places we loved, social justice, rivers, poetry…
If you're in Vancouver, consider taking in the Wayzgoose, or printers' fair, this Saturday (the 31st), at the Vancouver Public Library. John and I will be there, in our capacity as proprietors of High Ground Press. Here's the poster with more details. (The Wayzgoose is a great place for early Christmas shopping. Think limited editions of books and prints, beautiful papers, ephemerae of the most interesting kind…):
It's the Canadian Thanksgiving weekend and our house is tucked into the trees, smoke rising from the chimney, and a huge squash is sitting on the worktable, waiting to be dealt with. In the meantime, if you're in Victoria, why not come to a reading on November 5 to hear Sarah Deleeuw, John Pass, and me read from our new books at Russell Books on Fort Street?
A nice little piece about John's new (old) book from BC Book Look:
and what I really like is the photo of John and me, taken in 1980. When Alan Twigg asked for an old photo (for another piece, in the works), I found this one. Were we ever that young? I still feel the same, though that particular house is long gone and so much has happened since…
An island in winter…Galiano Island, that is. Both John and I have been invited to the Galiano Literary Festival on Galiano Island in February. The Festival takes place February 19 – 21 and I'll post further details when they've been confirmed.
A few more delights in the future which I'll reveal as and when I have more details. In the meantime, if you're around Vancouver Word on Library Square this weekend, come and say hello?
Word Vancouver is a lively literary soiree held (mostly) in and around the grand central branch of the Vancouver Public Library over five days, from September 23-27 . Both John and I have been invited this year, for Sunday, September 27. If you're around, come and say hello!
John's event is in something called the Poetry Bus. I'm thinking it won't be hard to find!
In a little over a week, I should have copies of Patrin in hand! And how nice to see it featured in B.C. Book World's online presence today.
August 4, 2015
July 21, 2015
Consider yourself invited if you are able to attend any (or all!) of the following upcoming events. There are a few more things in the works which I'll list when they're confirmed. (October is blank because, a) we intend to be in and around Ottawa for part of that time, in our role as expectant grandparents, and b) some of those possible events are Ontario-based…)
August 21, 7 pm. Woodshed Series (UBC-Okanagan), Woodhaven Eco Cultural Centre, 969 Raymer Road, Kelowna (I'll be reading from a number of books, Patrin included, though it won't be released until September)
September 19, 7 pm. Coast launch for Patrin at the Sunshine Coast Arts Centre, 5714 Medusa Street, Sechelt
September 27, Word Vancouver Festival, Vancouver Public Library concourse, time and actual location of reading TBA
November 7, 8 pm, Lions' Club, Salt Spring Island, launch for Patrin and Trevor Carolan's The Literary Storefront: The Glory Years
November 26, Cottage Bistro, 4470 Main Street, Vancouver, as part of the Twisted Poet Reading Series, with John Pass
June 22, 2015
High summer — what better time to be in the Okanagan Valley? Lucky for me that UBC Okanagan has invited me to read as part of their Woodshed Series at the Woodhaven Eco Cultural Centre on August 21st. 7 p.m. The Woodhaven Eco Cultural Centre is located at 969 Raymer Road in the Lower Mission area of Kelowna.
I've been working on press releases for the Pender Harbour Chamber Music Festival and thought I'd share some of the information here. It's the 11th annual Festival and takes place August 13-16 at the School of Music in Madeira Park on the Sechelt Peninsula. Who's coming this summer? Artistic director and pianist Alexander Tselyakov has invited the celebrated Gryphon Trio (Annalee Patipatanakoon, violin; Roman Borys, cello; Jamie Parker, piano) for a second visit. James Campbell, North America's pre-eminent clarinettist, also returns, as does double-bassist Dylan Palmer. Violist Yariv Aloni (part of the very first Festival), cellist Pamela Highbaugh Aloni (Pamela was here last summer as a member of the Lafayette Quartet!), and violinist Terence Tam come to us from Victoria, and from Edmonton, horn player Allene Hackleman.
I'm listening to my son right this minute speak to the notion of a national bird for Canada! (Click the panel À la recherche d'un oiseau national)
My review of Gillian Wigmore's wonderful novella Grayling is up at the Malahat Review site now (print version to follow):
Thrilled to see my interview with rob mclennan up at his site!
I loved seeing the promo material for this forthcoming title. (Scroll down to the table of contents and look at the final chapter!)
In ten days we'll be in Ottawa and Quebec and as well as having the pleasure of Forrest and Manon's company (and their excellent hospitality!), we'll get to see our granddaughter Kelly and her parents too. (Brendan is spending a month in Toronto doing whatever it is mathematicians do and his family will accompany him. They're coming to Ottawa for a weekend…) I wonder if Kelly will be wearing this hat?
No readings to alert you to but instead, a visit tomorrow to granddaughter Kelly and her parents in Edmonton. Here's Kelly with her dad, in matching hoodies:
My grand-baby Kelly at 9 weeks:
I have bits and pieces of news which I'll share soon — contract's in the mail! And I was delighted to receive this poster from the Victoria Writers Festival where I was lucky enough to be invited last fall. This is part of their Literary Map of Victoria Project and as someone who was born in Victoria and who still writes her way back to its hills and beaches, its oak groves and old neighbourhoods, I was pleased to be included on the map.
THRiVE Reads… BC Authors
In collaboration with TRU Creative Writing department, we will be hosting THRiVE Reads, which is a celebration of BC Authors. Similar to CBC's Canada Reads, we have had voting open for the last two months. Look below and find our top 6 choices.  Stay tuned for our schedule and congrats to all our winners!
Location: THRiVE Expo at TRU Campus Activity Centre
Times: Saturday and Sunday, June 22-23; schedule to come
(I love the cover…)
May 29, 2013
I'm very pleaed to have been invited to the Victoria Writers Festival in October!  http://www.victoriawritersfestival.com/ They'd asked me last year but it was the weekend of the party we were hosting so our west coast friends and family could celebrate Forrest and Manon's Ottawa wedding so I had to decline. My event will be October 19th and I'll post further information when I have it.
And I've also had an invitation to visit Salmon Arm for an event co-sponsored by the Shuswap Association of Writers and the Naturalists Society in October. What a lovely time to be in that part of the world!
May 14, 2013
A review of Mnemonic: A Book of Trees in B.C. Studies!
http://www.bcstudies.com/reviews.php?id=838881
May 2, 2013
Heading to the Island tomorrow for the 29th Annual Lieutenant Governor's BC Book Prizes Gala at Government House in Victoria on Saturday evening. It's always fun to see our literature celebrated and this year it will be good to stay at the wonderful Abbeymoore B&B across the road from Government House. I love walking in the camas meadow on the south side of the house itself.
April 14, 2013
Thrive! I was delighted to see that my first novel, Sisters of Grass (Goose Lane Editions), is one of the books featured on the Thrive Festival's Read B.C. Authors page:
http://www.thrivefestival.ca/thrive-expo/thrive-reads/
What an honour to see my novel included with the other books. If you are so inclined, you can vote for your favourite 6 books of those featured. Have a look and see if Sisters of Grass might be among your favourites! I'd be so pleased! (If you've read my novel, you'll know that it's set in the Nicola Valley, not far from Kamloops, and Kamloops is the setting for several important scenes. It's a city John and I love. We were there most recently in early March and enjoyed some wonderful walks in the area as well as two sublime dinners, one at Terra and one at an old favourite, the Brownstone.)
March 22, 2013
This website is my one (nervous) foray into social media and I'm never sure I'm doing it correctly. But I've been given a link to a Facebook page for the Manoa Summer 2013 issue and will provide it here. (I'm not on Facebook so I have no idea how this works.) http://www.facebook.com/notes/manoa-journal/trevor-carolan-is-guest-editor-for-the-summer-2013-issue/10151349356955920
March 15, 2013
Yesterday the B.C. Book Prize shortlists were announced. I was one of three jurors for the Ethel Wilson Fiction Prize and have been reading the entries for that since the middle of December. It was a fascinating process and I think the fiction shortlist is really terrific, though one wishes it could have been longer…
http://www.bcbookprizes.ca/winners/2013
The recipients of this year's B.C. Book Prizes will be announced on Saturday, May 4, 2013, during the 29th Annual Lieutenant Governor's BC Book Prizes Gala at Government House in Victoria.
March 9, 2013
I was so pleased to learn that Manoa at the University of Hawaii (http://www.hawaii.edu/mjournal/) will reprint my essay, "Marine Air" in their Summer 2013 Cascadia issue. "Marine Air" first appeared in Manoa in 1998 (http://www.hawaii.edu/mjournal/text/issues/issueslist-page.html). For some reason, the essay hasn't fit in my essay collections so I'm glad that it will have another chance to find readers. And Manoa is such a great journal.
February 11, 2013
The schedule for the Meacham Writers' Workshop, held  on the campuses of the University of Tennessee at Chattanooga and Chattanooga State Community College, is up now. http://www.meachamwriters.org/schedule.htm John and I will be participating at a pre-conference reading on March 20th. We will also meet with Dr. Christopher Stuart's class at the University of Tennessee during that week. I will add more details as I have them. Have a peek at our pages:
http://www.meachamwriters.org/writers/theresa-kishkan.htm
http://www.meachamwriters.org/writers/john-pass.htm
January 12, 2013
John and I will be visiting the University of Tennessee at Chattanooga in late March to do readings and meet with students. Very much looking forward to that. We'll go on from Chattanooga to New York for a few days and then spend the Easter weekend in Ottawa with Forrest and Manon, just in time for Forrest's birthday. He's beginning a new job in February, at the Canadian Museum of Civilization, so it will be great to visit his workplace!
December 20, 2012
This is the time of year to curl up by the fire with a stack of good books (and maybe a mug of hot rum). On our coast, we can count on rain more than we can count on most things. So how nice to find Mnemonic: A Book of Trees on Caroline Woodward's Mid-Winter Monsoon Reading list over at the 49th Shelf site. http://49thshelf.com/Lists/Members/2012-04/Mid-Winter-Monsoon-Reading Not only is a Caroline a terrific writer, but as a lighthouse keeper, with her partner Jeff, on a small island off the west coast of Vancouver Island, she knows something about weather too!
December 15, 2012
Ten days before Christmas: it's an honour to be on Stephen Hume's list of book suggestions for holiday gift-giving!
http://www.vancouversun.com/opinion/op-ed/Stephen+Hume+Books+about+make+unique+gifts/7702673/story.html
It makes me feel kind of shy when someone I admire as much as I admire Stephen Hume (I taught an essay of his in Brno last Februray and loved how the students responded to "A Walk with the Rainy Sisters" from his essay collection of the same name) says something like this about my work (but in the interests of ensuring readers of Mnemonic: A Book of Trees, I'm overcoming my shyness for a minute):
"Part memoir, part natural history, part lyrical personal essay, this is an unusual work that's best described as a book for the true book lover. Kishkan, one of our best essayists who also happens to excel as a poet and novelist, braids her life — and ours — into the mysterious structures of human memory and the natural world. A mnemonic is an aid to remembering and Kishkan uses trees as waypoints in her luminous journey through the landscapes of art, myth, history, botany and personal recall. Each chapter in her narrative is organized around a different tree species and its unique attributes, which serve as symbolic resonating chambers for her imagination and the images that surface in the attempt at remembering. This is the kind of elegant and highly original book that leaves other writers, even good ones, feeling inadequate and clumsy. Look for it at www.gooselane.com."
December 13, 2012
For a little winter listening pleasure, here's a sampler from the Pender Harbour Chamber Music Festival:
http://penderharbourmusic.ca/chamber-music/music-sampler/

And Robin Ridington posted reviews of Sisters of Grass and Inishbream on his site. Wonderful to have such a generous reader!
https://sites.google.com/site/plumeofcockatoopress/books-read-2012
October 29, 2012
There's a wonderful review of Mnemonic: A Book of Trees by Leigh Matthews of Thompson Rivers University in the latest issue of The Goose, the online journal of ALECC (Association for Literature, Environment, and Culture in Canada).
http://www.alecc.ca/documents/goose/The_Goose_Issue_11_Summer_2012.pdf — pages 101-102
And don't forget, you're welcome to come to my reading at Langara College on Wednesday, October 31st, at 2:30 pm in Rm A237, Langara College 100 W49 Ave Vancouver (A refers to the A building which is the building facing W49, between Main and Cambie, the doors being roughly adjacent to the main Sign).
October 10th, 2012
My review of Don McKay's The Shell of the Tortoise in the Malahat Review issue, Essential East-Coast Writing, is online:
http://malahatreview.ca/reviews/180reviews_kishkan.html
September 18th
I'll be reading at Langara College in October. Here are the details.
When: 2:30 p.m. October 31
Where: Rm A237, Langara College 100 W49 Ave Vancouver (A refers to the A building which is the building facing W49, between Main and Cambie, the doors being roughly adjacent to the main Sign).
And next week we fly to Ottawa to attend (with bells on!) the wedding of our son Forrest and Manon Labelle on September 29th.
September 9, 2012
At the Pender Harbour Chamber Music Festival in August, I spent some time talking to Jillian and Robin Ridington. They've come every year (I think every year) since the first festival 8 years ago. I knew their name was familiar but somehow didn't connect them with the Ridingtons whose work among the  Dane-zaa First Nations in the north-eastern part of British Columbia I've followed over the years.
I read their book, When You Sing It Now, Just Like New: First Nations Poetics, Voices and Representations, some time ago and other works, too — Blessing For A Long Time: The Sacred Pole of the Omaha, which Robin co-authored with Dennis Hastings. This is meticulous and respectful ethnology at its best. I was so honoured to have them bring some of my books to me at the Festival and ask me to sign them and even more honoured to have Robin's email to say he'd reviewed two of them on his website.
https://sites.google.com/site/plumeofcockatoopress/books-read-2012
They have a new book coming out this year with UBC Press, Where Happiness Dwells: A History of the Dane-Zaa First Nations. I very much look forward to reading it.
August 30, 2012
This strikes me as innovative! Festivals are such a great way to bring writers and readers together and I wish this initiative well!
http://tnq.ca/blog/calling-all-wild-writers-and-readers
August 17, 2012
Here's a link to Michael Hayward's review of Mnemonic: A Book of Trees in the Geist summer issue.
http://www.geist.com/articles/mnemonic-devices
July 29, 2012
I don't have events to report, apart from the 8th annual Pender Harbour Chamber Music Festival which I've been involved with in the past and am helping with again. August 16th – 18th, at the School of Music in Madeira Park, B.C. It's always wonderful. The venue overlooks the harbour in this small coastal village, huge firs surround it, and audience members can look up from a particularly beautiful passage of Mozart to see eagles soaring in the clear sky or a float-plane coming in to the dock. Most of the concerts are sold-out but there's a waiting list. For more information, visit the website: www.penderharbourmusic.ca
In Gibsons yesterday, I picked up a copy of the summer issue of Geist and was delighted to see a review of Mnemonic: A Book of Trees, by Michael Hayward. I don't believe the review is available online (www.geist.com) but the whole issue is worth having. I was so happy to read the final two sentences: "There's a wonderful sense of place throughout, and Kishkan's observant curiosity makes you think of Forster's exhortation in Howard's End: 'Only connect the prose and passion and both will be exalted.' Mnemonic exalts."
Our friend John Farrer took fabulous photographs at Brendan and Cristen's wedding last weekend and uploaded them to this site:
http://jpfarrer.smugmug.com/Weddings/Wedding-July-2012/24339623_4Kq84c
June 1, 2012
People often ask me what my children are up to these days. They grew up here on the Sunshine Coast and went off to university. We love their visits home!
Forrest completed doctoral studies in history at the University of Western Ontario and went to work for the Canadian Heraldic Authority in Ottawa. This is a fascinating branch of the Governor General's office and you can read about it here: http://gg.ca/document.aspx?id=2
Forrest is the Saguenay Herald and his partner Manon Labelle is the Miramichi Herald. Right now they're in London for the Queen's Jubilee. They'll participate in a number of events but this one looks really interesting!
http://www.visitlondon.com/events/detail/22357258-thames-diamond-jubilee-pageant
Brendan finished doctoral studies in mathematics at the University of Toronto and is currently a Max Wyman Assistant Professor in the Department of Mathematical and Statistical Sciences at the University of Alberta. His partner Cristen Frith Adams holds a PhD in atmospheric physics, also from the University of Toronto, and is currently doing post-doctoral work.
Brendan has a busy summer with conferences in Banff, Chicago, Paris, and Bonn. And he will be receiving the Cecil Graham Doctoral Dissertation Award at the Canadian Applied and Industrial Mathematics Society's Annual General Meeting in June!
http://www.fields.utoronto.ca/programs/scientific/11-12/CAIMS_SCMAI/program.html
Angelica is finishing her Master's thesis in Greek and Roman Studies at the University of Victoria and working as a project officer for the Land Conservancy of Canada. Her areas of responsibility include the wonderful Craigflower Manor:
http://blog.conservancy.bc.ca/properties/vancouver-island-region/craigflower-national-historic-sites-of-canada/ ;
and Ross Bay Villa where she's really enjoyed working on the creation of an oil cloth for the entrance hall. You can see a video of this here:
http://blog.conservancy.bc.ca/properties/vancouver-island-region/ross-bay-villa/visiting-the-site/
She's also organizing a Canada Day lawn party which sounds wonderful. For more information about it, go here:
http://blog.conservancy.bc.ca/2012/03/canada-day-lawn-party-at-ross-bay-villa-2/
Brendan and Cristen are getting married in Victoria in late July and Forrest and Manon will marry in Ottawa in late September so it will be a summer of wedding bells. Can't wait!
May 23, 2012
There was a nice reprise of the B.C. Book Prizes Gala on Sheryl MacKay's weekend morning show, North By Northwest.  Sheryl talks to author J.J. Lee, whose memoir, The Measure of the Man, was shortlisted for the Hubert Evans Prize for Non-Fiction, and who was possibly the best-dressed man there.
http://www.cbc.ca/video/#/Radio/Local_Shows/British_Columbia/North_by_Northwest/1724538341/ID=2234246675
And I'll be participating on the Eco-Writing: New Leaves panel discussion at the OnWords Conference and Annual General Meeting of The Writers' Union of Canada at  The Holiday Inn Downtown Vancouver, located at 1110 Howe Street, on Friday, May 25th at 1:45 p.m. The other panelists are Clea Roberts and Harry Thurston and the moderator is Brian Brett. Please come and say hello!
May 13, 2012
Last night we attended the B.C. Book Prizes Gala in Vancouver, a splendid celebratory occasion for British Columbia`s writers, publishers, book-sellers, and literary community in general. John won the Dorothy Livesay Poetry Prize! This was the third time a book of his was shortlisted and it was wonderful to hear his name read out and then to listen to him give a brief gracious acceptance speech! It was stellar shortlist — Sharon Thesen`s Oyama Pink Shale, Susan McCaslin`s Demeter Goes Skydiving, Patrick Lane`s Collected Poems, and Garry Thomas Morse`s Discovery Passages, as well as John`s crawlspace.
My Mnemonic: A Book of Trees was shortlisted for the Hubert Evans Prize for Non-Fiction and that prize went to Charlottè Gill for her book, Eating Dirt. As they say, it was an honour to be chosen for the list and to have my book spend time on a shortlist with four other terrific titles.
Here`s the winner in our family!
May 7, 2012
I hope people will join us tonight at the Pender Harbour School of Music in Madeira Park for an event sponsored by Blue Waters Book Company! John and I are really looking forward to reading on our home ground and talking to old friends as well as meeting new ones. I'm in the process of baking cookies for it right now — shortbread trees with fresh rosemary (for remembrance).
And here's the dope on the B.C. Book Prizes Gala!
Lieutenant Governor's BC Book Prizes Gala 2012
Event Date(s)
Saturday, May 12, 2012
Location
The Djavad Mowafaghian Cinema
Goldcorp Centre for the Arts
SFU Woodwards
149 West Hastings Street
Vancouver, BC
Event Description
The 28th Annual Lieutenant Governor's BC Book Prizes Gala will take place May 12, 2012, at The Djavad Mowafaghian Cinema at SFU Woodwards, Goldcorp Centre for the Arts in downtown Vancouver.
The Lieutenant Governor's BC Book Prizes Gala is a celebration of finalist authors, illustrators and publishers. The recipients of the 2012 book prizes will be announced and the ninth annual Lieutenant Governor's Award for Literary Excellence will be presented.
Author, activist, and comedian Charles Demers will host the evening festivities.
Tickets will be available for pick up at the venue beginning at 7:00 pm and light refreshments will be available in the lobby area.
Doors to the theatre will open at 7:30 pm and the Awards Ceremony will begin at 8:00 pm. The ceremony will be just over 1 hour long, followed by a Celebration Reception in the lobby area.
The post-awards reception will include a cash bar and complimentary hors d'oeuvres. The event is expected to wrap up around 11:00 pm.
Tickets are $60 each with assigned seating. Tickets are not mailed and will be available at Will Call.
May 1, 2012
Just a reminder that I'll be reading in the Robson Reading Series (UBC Bookstore/Library at Robson Square, 800 Robson Street, Plaza level, Vancouver, BC V6Z 3B7) on Thursday, May 3, at 7:00 p.m.  The other reader for the evening is the wonderful Stephanie Bolster. Please come out and support this great series! And if we haven't met, please introduce yourself!
http://www.robsonreadingseries.ubc.ca/
April 27, 2012
April 16th, 2012
Dale and Michael Jackson of Bluewaters Books in Madeira Park have invited John and I to read on May 7th at the Pender Harbour School of Music. We will both read from our B.C. Book Prizes shortlisted titles — my Mnemonic: A Book of Trees (shortlisted for the Hubert Evans Non-Fiction Prize) and John's crawlspace (shortlisted for the Dorothy Livesay Poetry Prize). The reading begins at 6:30 p.m. and refreshments will be served. This is a wonderful opportunity for us to read in our own community where we've made our home for 30 years.
April 5, 2012
A nice review in Canadian Literature!
http://canlit.ca/reviews/textures
March 19, 2012
I'll be giving a talk at the Women's Arboriculture Conference at Tigh-Na-Mara Resort near Parksville on Vancouver Island this coming Wednesday. There's a great line-up of speakers on everything from ecology to ethnobotany to tree care. Have a look at the website:
March 14, 2012
I'll be reading in the Robson Reading Series (UBC Bookstore/Library at Robson Square, 800 Robson Street, Plaza level
Vancouver, BC V6Z 3B7) on Thursday, May 3, at 7:00 p.m.  The other reader for the evening is the wonderful Stephanie Bolster. Please come out and support this great series! And if we haven't met, please introduce yourself!
http://www.robsonreadingseries.ubc.ca/
And Corey, the formidable publicist at Goose Lane, told me about this review at All Points West. I just listened to it while watching the big firs south of our house bend in the wind…
http://www.cbc.ca/allpointswest/bookclub/2012/03/14/bc-books—talking-trees-1/
March 8, 2012
I'm in an attic studio in Bloomsbury this week, which feels very far from home. But I've just discovered that Mnemonic: A Book of Trees has been shortlisted for a B.C. Book Prize — the Hubert Evans Prize for Non–Fiction! It's a great shortlist; along with Mnemonic, the books are Carmen Aguirre's Something Fierce, Charlotte Gill's Eating Dirt, JJ Lee's The Measure of a Man, and Gary Geddes' Drinking the Bitter Root. An honour to be among them, and to be considered for a book named for Hubert Evans, whose Mist on the River is one of the great books about British Columbia.
The other good news is that John's crawlspace has been shortlisted for the Dorothy LivesayPoetry Prize! For more information about the B.C. Book Prizes, go to www.bcbookprizes.ca
February 11, 2012
I woke in Brno this morning to find a good review of Mnemonic: A Book of Trees at the Maple Tree Literary Supplement. Here's the link:
http://mtls.ca/issue11/writings/reviews/angela-hickman
January 27, 2012
In ten days we leave for five weeks in Europe.  Our trip will be bracketed by London – two nights at the beginning and five nights at the end. The rest of the time we will be in the Czech Republic. I can't wait! We were in the CR in the fall of 2010 and loved our stay there. I felt like I'd found my people, my tribe, and in some ways it must be true. My father's mother was born in Horni Lomna in 1881 or 1883 – her birth certificate and naturalization papers disagree on the year.
First we'll head to Brno where we're teaching an intensive week-long course on west coast writing at Masaryk University. This has been arranged by the gracious Katka Prajznerova and she invited us to decide on content. I'll introduce students to non-fiction prose in the mornings in a series of classes I've titled "Voices from the Salish Sea". John takes over in the afternoon with poetry: "Wave to Watershed". We'll be reading together one evening at the Moravian National Library, too.
From Brno, we go to Olomouc where we'll be reading at the university there and exploring what promises to be a beautiful city, with Gothic churches and the baroque Holy Trinity column, a tiny chapel of St. Jan Sarkander, and museums galore.
Then to Ostrava where John will participate in a poetry festival (several of his poems have been translated into Czech and will be read in English by him and in Czech by the translator) and where we will meet with Petr Kopecky's class to give the students a condensed version of our series in Brno as well as reading from our work.
While in this area, we will also visit Roznoz with Petr and his partner Lenka and we will travel to Stramberk with our friends Zuzka and David. They have even offered to take us to Horni Lomna.
Plans are firming up for a stay in Prague with some readings and presentations, possibly even further afield in other parts of Bohemia.
And when we return, it's only a matter of a week or so until the Women's Arboriculture Conference, March 21-23, at Tigh-Na-Mara Resort on Vancouver Island where I'll be giving a reading and presentation from Mnemonic: A Book of Trees. Visit their website to see what other speakers are participating. www.womenarborists.ca  It sounds really wonderful.
______________________________________
January 13, 2012
A wonderful review of Mnemonic: A Book of Trees this morning.
http://www.flycatcherjournal.org/mnemonic.php
________________________________________
December 22, 2011
Corey at Goose Lane just sent me this review from London's lively The Scene. Christmas is definitely around the corner!
MNEMONIC: A BOOK OF TREES • BY THERESA KISHKAN
GOOSE LANE, 2011 • 247 PAGES
Most books are easily classifi ed. It's either fiction or non-fiction; biography, essays,
poetry, true crime, mystery, fantasy or sci-fi ; it deals with culture or history, science or
technology. Mnemonic: A Book of Trees by Canadian author Theresa Kishkan eludes
such easy defi nition. Certainly, it is a memoir, woven together from Kishkan's impressions,
recollections and personal anecdotes. But the personal only provides context,
or perhaps more accurately, a lens through which to view other bits of information.
This information – comprised of botanical and scientifi c fi eld observations, arboreal
data, regional, national and international histories, as well as the author's own
earned wisdom – are the branches from the trees rooted in Kiskan's memory. She
explains her writing process early on, citing the work of the classical Roman statesman
Cicero on how to train one's memory by using a method of loci. "By memorizing
the architectural space of a particular building and by attaching elements of a speech to particular features of the
building and forming an image of the two, a structural mnemonic is created," Kishkan writes, before explaining how
whenever she tried to use the method, trees would come to mind instead of buildings. Whether discussing the olive
trees of Knossos, Crete where she once lived or the displaced quercus virginiana she knew as a child growing up in
BC, Kishkan's mnemonic exercise and the result – ie, this book – is the consequence of her own evolving, unfolding
perspective, told in wonderfully unadorned prose. Like the trees she so loves, her book is a living work.
~ Chris Morgan
____________________________________________________
December 21, 2011
Nice to be on a Best-Of list!
 http://januarymagazine.blogspot.com/2011/12/best-books-of-2011-non-fiction.html
________________________________________________________
December 13, 2011
A wonderful review of Mnemonic at Pickle Me This, Kerry Clare's lively blog.
http://www.picklemethis.com/2011/12/12/mnemonic-a-book-of-trees-by-theresa-kishkan/
___________________________________________________________
December 11, 2011
My list of private press books is up at the Canadian Bookshelf this morning. I love this site for its spaciousness and capacity for widening the conversation about Canadian books.
http://canadianbookshelf.com/Lists/Guest-Contributors/A-Shelf-of-Small-Press-Books-by-Theresa-Kishkan
_________________________________________________________________
December 9, 2011
There's a nice piece on Mnemonic: A Book of Trees in our local newspaper today.
http://www.coastreporter.net/article/20111209/SECHELT0501/312099997/-1/sechelt/pender-author-provides-some-memories
And I also would like to add a link to the Women's Arboriculture Conference in March to which I've been invited. The organizer, Verna Mumby, came to the reading John and I did at Coho Books in Campbell River the week before last so it was excellent to put a face to her name — we've been corresponding since late summer about the conference. I'm really looking forward it.
____________________________________________________
November 29, 2011
A lovely review of Mnemonic: A Book of Trees at Richard Pickard's site today:
http://boughtbooks.blogspot.com/
_________________________________________________
November 18, 2011
The interview I did with Ramon Kubicek is featured on the Branta blog today!
http://www.gooselane.com/blog/2011/11/qa-theresa-kishkan/
And please don't forget to join us during the Autumn Leaves tour on Vancouver Island next week! Details are posted below.
__________________________________________________
November 11, 2011
I wrote a little piece about the book launch as a Post on this site.  Just click on Posts on the menu on the right-hand side of the home page.
And I was delighted to see Mnemonic featured on the Canadian Bookshelf page this week:
___________________________________________
November 6, 2011
A reminder: my new book, Mnemonic: A Book of Trees, will be launched in Sechelt at the Arts Centre on Tuesday, November 8, at 7:00 p.m. Everyone is welcome to come! There will be a short reading from the book, lots of nice things to eat, and Bev Shaw of Talewind Books will have copies of Mnemonic available for purchase. I'll happily sign them! Hope to see you there!
_________________________________________________
November 2, 2011
Consider yourselves invited! Or evited?
___________________________________________________
October 24, 2011
John and I will be reading on Vancouver Island in late November. The delightful Colleen Kitts, acting publicist at Goose Lane Editions, is calling this the Autumn Leaves Tour. We'd love to see you at any (or all!) of these events! If we haven't met, please introduce yourselves.
Mnemonic: a book of trees, by Theresa Kishkan, Goose Lane Editions
crawlspace, by John Pass, Harbour Publishing
November 22, 2011
Vancouver Island Regional Library
Nanaimo Harbourfront
90 Commercial Street, Nanaimo, BC
6:30 pm
250-753-1154
November 23, 2011
Vancouver Island Regional Library
Sidney/North Saanich Branch
10091 Resthaven Drive, Sidney, BC
250-656-0944
7:00 pm
November 24, 2011
Vancouver Island Regional Library
Cowichan Branch,
2687 James Street, Duncan, BC
250-746-7661
6:30 pm
November 26, 2011
Coho Books
1074 Shoppers Row, Campbell River, BC
250-287-2336
11:00 am
_______________________________________________
October 23, 2011
Ramon Kubicek sent some interesting interview questions last week and the results are now up on his website:
http://ramonkubicek.com/theresa-kishkan-writer/
Have a look at his blog too while you're there. Lots to think about!
_______________________________________________
October 19, 2011
Susan Olding has a terrific essay on the essay (bless her) at the Canadian Bookshelf site. She quotes Virginia Woolf: "What art can the essayist use…to sting us wide awake and fix us in a trance which is not sleep but rather an intensification of life—a basking, with every faculty alert, in the sun of pleasure?" asks Virginia Woolf. "He must know—that is the first essential—how to write." There's even a generous mention of Mnemonic!
http://canadianbookshelf.com/Blog/2011/10/19/That-Trying-Genre-Guest-Post-by-Susan-Olding
And Mnemonic has its first review…
http://www.dooneyscafe.com/archives/2676
_____________________________________________
October 18, 2011
http://www.youtube.com/watch?v=zZ-RLMJIqAs
Check this out! A beautiful trailer for Mnemonic!
__________________________________________
October 15, 2011
I write from Penticton where John read last evening at the wonderful Hooked on Books and where he asked me to read a passage from Mnemonic: A Book of Trees. It's been a great ramble through the province, into Alberta, and the readings were really a great way to meet people and introduce our books to them.
I'd like to extend an invitation to readers to attend the book launch for Mnemonic on November 8 at the Arts Centre in Sechelt at 7 p.m.
____________________________________
October 1, 2011
John and I are heading off on a roadtrip on Tuesday, with Edmonton as our ultimate destination. We're looking forward to spending Thanksgiving with Brendan and Cristen; we're taking them a case of Okanagan wine as a house-warming gift (much more interesting to choose than a microwave or toaster…).
Enroute to Edmonton and on the way home, John will be reading in a number of places:
October 4 — Kamloops: Kamloops Library, 7pm
~ 100-465 Victoria Street, Kamloops, www.tnrdlib.bc.ca
October 5 — Jasper: Jasper Community Habitat for the Arts, 7pm.
~ 631 Patricia Street, Jasper
~ Part of their Arts With Altitude Festival
October 11 — Banff: Banff Library, 7pm
~ 101 Bear Street, Banff, www.banfflibrary.ab.ca
October 12–Trail: Trail & District Public Library, 7pm
~ 1051 Victoria Street, Trail, www.traillibrary.com
October 13 — Castlegar: Selkirk College, noon
October 14 — Penticton: Hooked on Books, 7pm
~ 225 Main Street, Penticton, BC
We'd originally hoped to read together but then it seemed that my new book, Mnemonic: A Book of Trees, wouldn't arrive until late in October. I'm entirely happy to be part of the audiences along the way, listening to John read from crawlspace, and meeting new friends and old. As it turns out, my book is winging its way to me as I write this and so there may be an opportunity to introduce it and perhaps even sell copies to anyone who is interested in having one hot off the press. (For a sneak peek, visit this link to the book on Goose Lane Edition's website: http://www.gooselane.com/book.php?isbn=9780864926517)
___________________________________________
September 5, 2011
I'm posting the promotional information about my new book, due in bookstores on October 7.  To book readings or other events, you can either contact Corey Redekop at Goose Lane Editions or me (coordinates on my contact page).
August 15, 2011
The summer passes with its pleasures and its distractions — watering, short trips away to Vancouver Island or the Interior or Vancouver for a lovely production of Henry Purcell's opera King Arthur. My brothers and I are planning a family gathering at Long Beach next week to release our parents' ashes to the weather and ocean, all our children, their partners, and in some cases (though how can this be???) grandchildren together for the first time in many years. I predict lots of laughter, tears, jokes, huge meals (I bought two magnums of champagne to take along to celebrate my parents), and hopefully some long walks on those beautiful haunted beaches where I went for the first time when I was 17. You can read about my love of that wild coast in the essay, "Undressing the Mountains", in my book, Red Laredo Boots.
As for news: my book, Mnemonic: A Book of Trees, is due out from Goose Lane Editions in early October. I will post information about its launch and readings as details emerge.
My friend Barbara Lambert, a wonderful fiction writer, has inaugurated a series at her website barbaralambert.com in which she asks writers to comment on rejected work or else material that somehow needed to be edited out of a published story or book. I contributed a brief piece on a passage from Mnemonic: A Book of Trees and am grateful that I didn't have to abandon it completely, thanks to Barbara and her Dr. Johnson's Corner. I look forward to her forthcoming novel, The Whirling Girl, due out from Cormorant in 2012. I had the pleasure of reading early drafts of this book and know that it's a vibrant and gloriously written novel, full of botanical art, the Etruscans, and love in the verdant hills of Tuscany.
___________________________________
June 19, 2011
John's new book, crawlspace, has just been published by Harbour Publishing and is being launched tomorrow evening, June 20th, at the Arts Centre in Sechelt at 7:30. Everyone is welcome! Refreshments will be served.
We're heading up to the Yukon on Thursday for the Whitehorse Poetry Festival, taking place from June 24 – 26. The featured poets, along with John, are Elizabeth Bachinsky, bill bissett, Miranda Pearson, Clea Roberts, David Seymour, Karen Solie, and Rhea Tregebov. Check out the Festival's website for more information:  www.whitehorsepoetry.com
After the Festival, we're going to spend an extra week in the Yukon and Alaska, exploring Dawson, Skagway, taking the White Pass and Yukon Route Railway, and a few other places. Can't wait!
May 24, 2011
Congratulations to my son, Brendan, for successfully defending his PhD dissertation, "Structural results on optimal transportation plans" last week, thus bringing to a close his years of graduate studies in Mathematics at the University of Toronto. He and his girlfriend Cristen Frith Adams are off to Edmonton in June so that Brendan can take up an appointment in the Math department at the University of Alberta. Cristen will move back and forth between Edmonton and Toronto while she completes her PhD in Physics.
Brendan at lunch with his dad and sister at the Old Boot in Sechelt over the Christmas holiday.
Brendan and Cristen in Toronto a few summers ago…
________________________________________________
March 4, 2011
I'm delighted to provide a link to the journal, Cerise, which features an essay of mine in the Spring issue.
I really like Cerise and am thrilled to be included in this issue and I love that they asked for photographs of our house to include with my essay.
_______________________________________________________
February 10, 2011
There's an interview with me at the New Quarterly this morning. http://www.tnq.ca/magazine/116/kishkan
_______________________________________________________
February 3, 2011
My book, Mnemonic: A Book of Trees, will be published by Goose Lane Editions in the fall of 2011 and so I'm just beginning the editing process with Akoulina Connell. She has me thinking about illustrations – how many, what kind – and lots of other stuff that I haven't needed to consider before with novels and collections of personal essays. Mnemonic is a memoir as well as an exploration of certain trees in nature, culture and my own personal history. I've used images throughout as little mnemonics to myself but would they have any meaning to readers? Hmmm. Stay tuned.
One of the essays from Mnemonic, "Olea europaea: Young Woman with Eros on her Shoulder",  appeared in Contrary in this past June. You can read it here: http://www.contrarymagazine.com/Contrary/Theresa_Kishkan_Olea_Europaea.html I was delighted to learn that the essay has been nominated for a Pushcart Prize.
Another essay, "Arbutus menziesii: the Make-up Secrets of the Byzantine Madonnas", won the New Quarterly's Edna Staebler Personal Essay Prize and appeared in issue 116 of TNQ. I'm thrilled that it's now been nominated for a National Magazine Award.
In event news, my husband John Pass and I have been invited to the Shuswap Writers' Festival, held in Salmon Arm on the weekend of May 27-29, 2011. John has also been invited to the Whitehorse Poetry Festival in June and I'll be tagging along. We hope to explore a little of the Yukon after the festival.
In October, John and I were guests of Masaryk University in Brno, Czech Republic. I participated in a round-table discussion which opened a conference on transgressive auto/biography and John gave a poetry reading at the Moravian National Library. Here are links to videos of both events. (I arrived in Brno from Bratislava with a virus that completely took away my speaking voice….that explains the croaking.)
http://www.video.muni.cz//public/Konference_KAA/Autorske_cteni-LQ.html (John Pass's reading)
http://www.video.muni.cz//public/Konference_KAA//Konference-LQ.html (the round-table discussion)
This is me in Brno after an amazing night of opera at the Reduta Theatre (where Mozart performed at the age of 11…).
This is John, after his reading in Brno, at dinner with Katka, Zuzka, and Amanda.