March 3, 2023
A beautiful review of Blue Portugal & Other Essays will appear in the forthcoming issue of Central European Journal of Canadian Studies. Martina Horáková catches the Czech references and has read the essays with deep intelligence.

Kishkan's writing in this collection will be enjoyed by those who appreciate a particular poetics of contemporary creative nonfiction, one that is fragmented, interlaced with visual images, possibly experimental and hybrid in style. It will be equally enjoyed by those who like watching rivers, listening to Janáček, travelling by train, and drinking wine!
December 12, 2022
Blue Portugal is on the Miramichi Reader's Best Non-Fiction of 2022 list, along with some other wonderful books.
November 21, 2022
If you're in Vancouver this Thursday (November 24), I'd love to see you at this reading! The event is free but you have to register online to attend.
Building Literary Homes: An Evening with Jane Cawthorne & Theresa Kishkan
And lovely to read this review of Blue Portugal in the Alberta View! (Here's a link to the page.)
October 15, 2022
Looking ahead, a talk about essays for the Canadian Authors Association"
November 3rd – Author's Talk – The Essay as Carrier Bag, as Gathering Basket with Theresa Kishkan
And a book launch with Jane Cawthorne at Massy Books:
https://www.eventbrite.ca/e/building-literary-homes-an-evening-with-jane-cawthorne-theresa-kishkan-tickets-429004362597?aff=ebdssbdestsearch
September 25, 2022
Last night felt like a return to my long association with the Arts Centre in Sechelt as I read from The Weight of the Heart and Blue Portugal & Other Essays to a warmly responsive audience. Dick Harrision gave me a beautiful introduction, placing these books in the context of my writing life, and it was a privilege to listen. These have been strange years, writing and reading and yes, even publishing, in isolation. Reading passages from my work, hearing people take in the lines, the sentences, the distances — from here to my grandmother's house, my grandfather's village, my own search for landscapes across time and place — made me feel alive in the old exchange again. There was a reception part-way through the reading, for cake, conversation, book buying and signing (and the gifting of the keepsakes John and I made), and then a discussion afterwards, moderated by Dick.
(You can see the results of my serious retinal damage in this photograph. I never had to wear reading glasses before it happened. Read Blue Portugal for more details!)
September 19, 2022
Surprised and delighted to find reviews of the Blue Portugal audiobook. I had a couple of wonderful conversations with the narrator, Nina Richmond, who called for some guidance on a couple of areas of pronunciation. She has a beautiful warm voice and one of these days I'm going to listen to her read me my book.
September 9, 2022
The generous Kerry Clare, beautiful writer and blogger, has generously read Blue Portugal:
But it's the stunning craftsmanship of the book, the fascinating threads that weave the pieces together and also recur throughout the text, that make this book such a pleasure to discover.
https://picklemethis.com/2022/09/09/blue-portugal-by-theresa-kishkan/
September 3, 2022
A wonderful review in the Miramichi Reader by Michael Greenstein. He read Blue Portugal so carefully and intelligently.
August 17, 2022
A good review in the September issue of the Literary Review of Canada:
August 13, 2022
Blue Portugal & Other Essays is forthcoming as an audiobook, read by Nina Richmond. (I chose her voice because it has warmth and texture and I look forward to listening to my essays with her inflection.)
Gene Walz reviews Blue Portugal & Other Essays in today's Winnipeg Free Press and has some congenial insights:
The chapter on blueprints, like the others, is divided into sections somewhat like stanzas in a long poem, some given their own page. And some sections are even indented like poetic lines. This gives the overall impression that the book mimics the tentative musings of a lyrical mind at work rather than the conclusions of a fixed thinker.

Blue Portugal & Other Essays is a book to be savoured, like poetry, not directly learned from.
August 3, 2022
A gorgeous review of Blue Portugal at the British Columbia Review
In Blue Portugal the essays' themes are allowed to slip their boundaries; a topic addressed in one essay recurs in later essays, a recognition, perhaps, that thoughts and interests develop over time, shifting slightly as they are put in the company of other thoughts, are seen from different perspectives. The essays in Blue Portugal seem to talk to each other; they interlace in interesting and thought-provoking ways. The book is a fine example of the personal essay at its best.
August 2, 2022
So many people writing nice cards, letters, emails about Blue Portugal. I won't share them because they've been sent to me personally but there have also been lovely postings on Twitter, intended for a more public audience, so I'll include them here.
This is Herb Randall:
I so enjoyed this collection of essays from
@fishgottaswim2,
lyrical and filled with unexpected connections. I love writing like Theresa's that inspires curious research rabbit holes. I especially loved the last one about tracing family in Ukrainian villages near Chernivtsi
.
I also loved the Blueprints essay, the unexpected links between conceptualized and realized space, the medium used to try to capture that, and Anna Atkins with her cyanotypes. Really wonderful ideas and writing!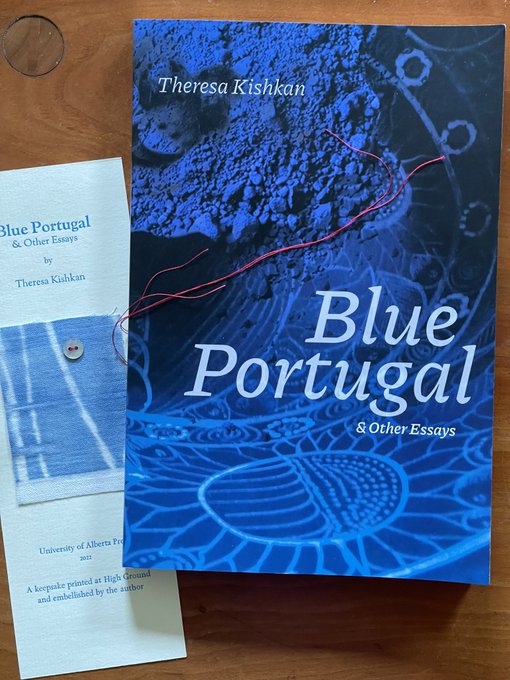 July 11, 2022
More sightings of Blue Portugal out in the world:
Lorne Daniel, a generous reader (and a fine writer), said this on Twitter yesterday:
"Theresa Kishkan weaves personal history, family history, the layered stories of places & plagues & waves of immigration into lovingly textured essays in Blue Portugal. "I will sew my way" thru the remnants, she writes, crafting something new from what fades. A remarkable read."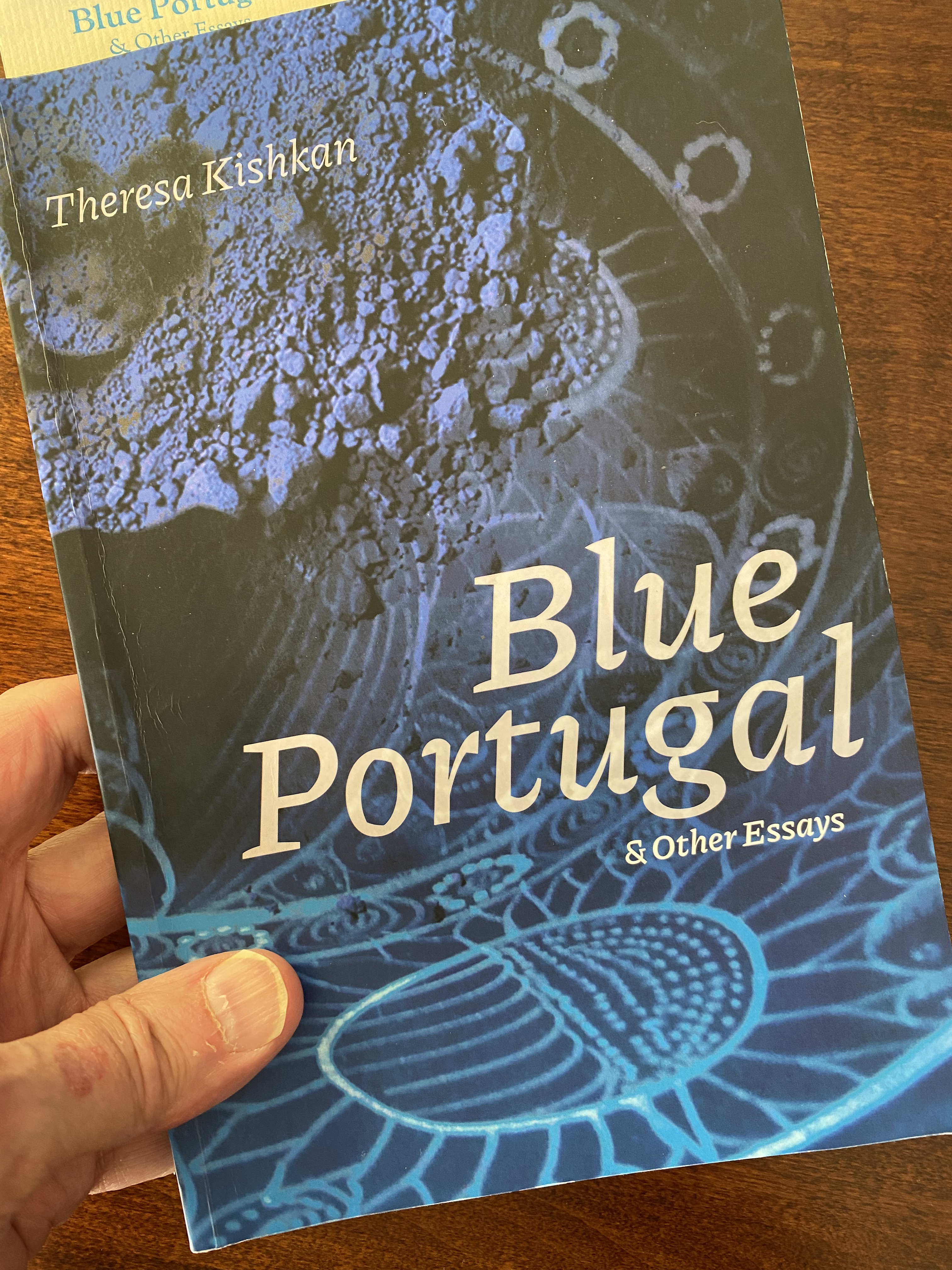 And Vicki Ziegler again, as a Sunday Sentence on Twitter on July 3:
"A blown-away leaf, the composer said, could be heard as a love song."
#sundaysentence
by Theresa Kishkan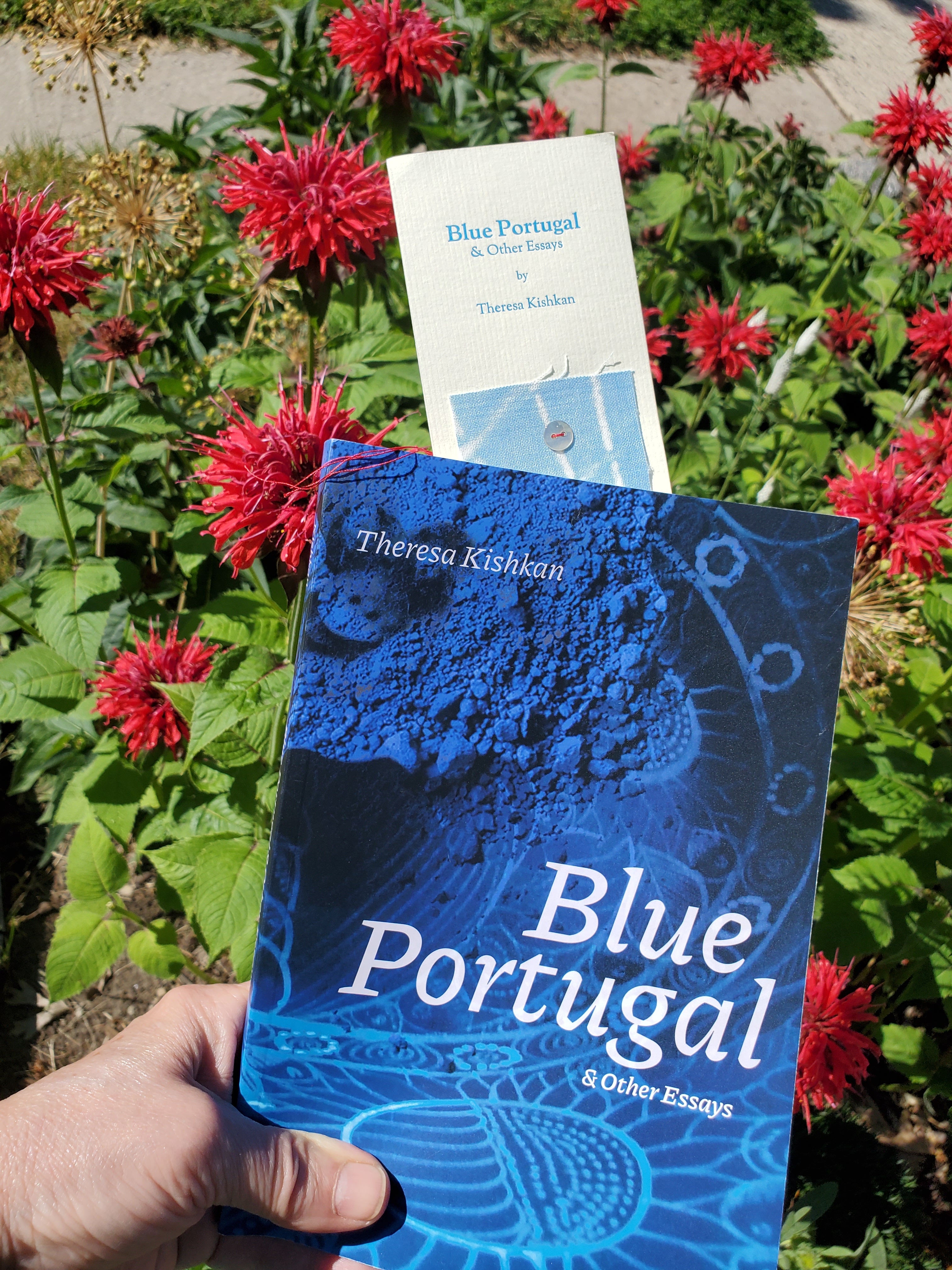 Diana Hayes commented on Twitter:
"I just received my copy of Blue Portugal today and I'm already immersed. A magical, earthy, ethereal at times, engaging collection of essays, written in beautiful prose with a poet's sensibility, imagination, and musicality. Thank you Theresa! So much that resonates – a gift."
June 17, 2022
Sightings of Blue Portugal out in the world:
The generous Vicki Ziegler (@bookgaga) featured a passage from Blue Portugal as her Sunday Sentence on Twitter last weekend, with a beautiful photograph:
"These are my years, scraps of my years, cut into squares and small rectangles, arranged as a series of cobbles for the mind to step along, carefully, one after another."

I love seeing the book in bookstores! I didn't take a photograph of the copies at Sechelt's Talewind Books but here's what it looks like at Madeira Park's Earth Fair:

People have also written me the most beautiful letters about the book. I can't tell you how it feels, or maybe I can, to find a note waiting in my email box or in my mailbox at the corner of the Sunshine Coast Highway and Hallowell Road. The other night I came downstairs to work on an essay that will appear in an anthology in 2023 and there was a gorgeous email from someone who took the time to not only read Blue Portugal but to put in the context of my work as a whole. I sat in the dark and felt so grateful.
May 30, 2022
A lovely talk with Joe Planta…
Theresa Kishkan
May 23, 2022
I had two nice invitations to write about something loosely connected to Blue Portugal.
https://canadianwritersabroad.com/2022/05/17/ivankivtsi-dust/
https://49thshelf.com/Blog/2022/05/19/I-was-always-going-to-write-essays
May 17, 2022
A lovely review of Blue Portugal in the Quill and Quire this morning:
Blue Portugal and Other Essays
May 11, 2022
A few of my fellow writers were approached for potential cover quotes for Blue Portugal. What they said:
"Kishkan's lyrical essays glow with the generosity and poetic grace of a richly perceptive mind. Blue Portugal and Other Essays explores natural and human histories, the veins and rivers of then and now, with fierce and tender insight. An overnight train, a weathered rock, a button, a blueprint, the complications of the human heart—all rendered in beautiful prose." Lorri Neilsen Glenn, author of Following the River: Traces of Red River Women
Phantom places resonant with mysterious meaning, dreamy hauntings from half-remembered lives, revenant landscapes fragmented in the prism of memory; the living, the dead; rivers as the veins of life and veins as the rivers of being; migrations through time, geography, and experience; a husband and wife reading Dante's Inferno to each another by firelight and the machinery of medical technology delivering readings from Cancerland—this is just a marvellous book. Theresa Kishkan is amazing." Stephen Hume, author of A Walk with the Rainy Sisters
"Blue Portugal and Other Essays is forget-me-not powerful, small sparking essays building and building to cacophonies of bright brilliance. Be prepared to be cracked (Crack. CRACK) wide open—raw, vulnerable and moved: you'll then be carefully knitted and quilted back into a transformed whole. Such is the skill of Kishkan's literary craft: she narrates entire, and stunningly well-researched, universes. From the intimately domestic and inner to the bountiful global and beyond, Kishkan takes you by the hand and the heart. She walks with you through her worded worlds and gently restores you back into a revisioned life, days and places you'll never see quite the same way ever again. Gently profound. Richly delicate. Therapeutic and needed." Sarah de Leeuw, author of Where It Hurts
May 5, 2022
Yesterday my neighbour knocked on the door, holding in his arms a large box. I was expecting a courier to deliver my copies of Blue Portugal the day before (someone had called to confirm my address and I explained how to find my house, suggesting the courier call if there was a problem. Don't go as far as the locked gate, I said. That leads to my neighbours's house and it means you've gone too far…) but no sign of it. Not until my neighbour appeared. Where did you find them, I asked, and he replied, By the locked gate! (There was another delivery last week, of Fish Gotta Swim Edition books, and because the locked gate was in fact open, the courier went down to my neighbour's house and simply left the boxes by his door.) Anyway, I opened the large box and was so delighted to see my copies of my book of essays, just published by the University of Alberta Press. Doesn't it look nice with the keepsakes we made last month?
May 2, 2022
Last Thursday evening I participated in an online event with 3 other University of Alberta Press authors as part of the Edmonton Poetry Festival. If you're interested, here's a recording. My reading is at about the 16:00 minute point.
April 15, 2022
On the essay:
Theresa Kishkan On Writing Essays
And the registration information for the Literary Cocktails event on April 28, 6 pm MT, is here:
https://www.eventbrite.ca/e/literary-cocktails-2022-tickets-310806449457
April 14, 2022
April 10, 2022
John observed the other day that it's been weeks since we ate at our dining table. That's because it's cluttered with projects—a quilt top in progress, the keepsakes I've been working at 8 or 10 at a time when I find a moment. But maybe it's time to finish up so today I worked on the quilt top until it was done
and I'm going to sew the buttons on the final keepsakes in the next few days. If you intend to buy a copy of Blue Portugal, either by ordering from your local independent bookseller or else from the University of Alberta Press (though you will have to pay shipping if you do that, a little heads up…), let me know and I will put a keepsake in the mail to your address.
April 2, 2022
You can sign up here for this virtual event! Confession: although I'd dearly love to drink a sophisticated cocktail, they always end up being mother's ruin in my case. So it will be a glass of wine for me, maybe something sparkling to celebrate these books! bit.ly/3LCFkJQ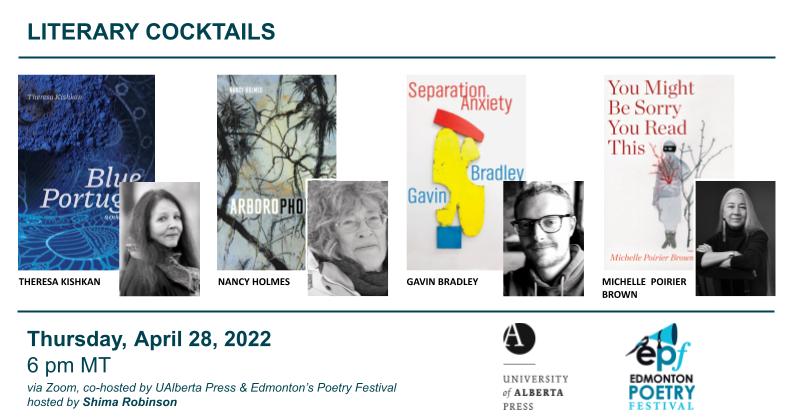 March 16, 2022
Just a little heads-up that Blue Portugal's publication date has been pushed back until the middle of May. So if you order and you don't receive your copies right away, you'll know why. I hope it's worth waiting for!
March 14, 2022
The keepsakes John printed and I embellished are finished! If you are intending to buy a copy of Blue Portugal, either by ordering from the publisher or from your local bookseller, just let me know and provide me with your mailing address. I'll put one of these beauties in the mail for you!
February, 2022
February 7, 2022
There's a nice piece on the B.C. BookLook page today! And lovely to be included on the 49th Shelf's list of most-anticipated Spring nonfiction!
January, 2022
In April, 2022, the University of Alberta Press will be publishing my collection of loosely-connected essays, Blue Portugal, as part of their Wayfarer Series. The book is composed of ten essays exploring family history, travel, the intricacies of textile and colour relationships, the challenges of an aging body, wine, personal geographies echoing the land forms and rivers of B.C., and the search for family stories through the landscapes of the Czech Republic, Ukraine, and the badlands of Alberta. It's been a joy to work on the edits of this book over the cold winter, basking in the warmth of editor Kimmy Beach, and I am looking forward to seeing the book find the light of actual day as winter turns to spring.
Because of the times we are living through (prefigured in one of the essays, "The River Door", about my grandmother's experiences in Drumheller during the Spanish Flu epidemic), I'm not sure how much actual physical promotion I will be able to engage in with this book. (Watch this page for news.) My husband John Pass and I have always loved to celebrate the publications of our books with some special keepsake, time-permitting. We have a 19th century Chandler and Price platen press and John has designed and printed small cards to give away with the sale of books at our launches.
We are thinking about a bookmark this time, on nice cardstock, with some special sewn embellishments, to honour the abundance of indigo-dyed textiles in the book. Closer to the publication date, I'll make details available to any of you who buy a book from the University of Alberta Press itself or from your own bookseller of choice (and given the times, with the difficulties so many small businesses are facing, I urge you to support those booksellers). I'll mail you a keepsake to hold your place in my book. Almost (almost) as nice as meeting you in person and signing your book!
So watch this page. As news develops, I'll post it here: reviews, events (by Zoom or in person), and anything else connected to Blue Portugal.